[an error occurred while processing this directive]

901

SONG FOR THE ASKING
(Lyrics by Paul Simon)

Here is my song for the asking,
Ask me and I will play
So sweetly I'll make you smile.

This is my tune for the taking,
Take it, don't turn away,
I've been waiting all my life.

Thinking it over, I've been sad,
Thinking it over I'd be more than glad
To change my ways for the asking,
Ask me and I will play,
All the love that I hold inside.

LADY-KILLER
(Killing by King Henry VIII)

Here is my song to my ladies,
Kath was the lady of Spain,
Anne B gave me syphilis.

Seymour I loved but I lost her,
And frail little Anne of Cleves,
Was an ugly mug, to the men.

Two whining wives lost their heads,
Fittingly Katie, she got too kinky
And kittenish, for my liking,
Catherine was on a par;
All moaned at me - big mistake!
[an error occurred while processing this directive]

902

OZYMANDIAS

I met a traveller from an antique land,
Who said: "Two vast and trunkless legs of stone
Stand in the desert. Near them, on the sand,
Half sunk, a shattered visage lies, whose frown,
And wrinkled lip, and sneer of cold command,
Tell that its sculptor well those passions read
Which yet survive, stamped on these lifeless things,
The hand that mocked them and the heart that fed;
And on the pedestal these words appear:
"My name is Ozymandias, king of kings;
Look on my works, ye mighty, and despair!"
Nothing beside remains. Round the decay
Of that colossal wreck, boundless and bare
The lone and level sand stretch far away.

RAMESES

A rover sent from kingdoms old and grand,
He said: "Forsaken sculpture have I known,
Stale, lurid lost void. Vainly there doth stand
Mad, sullen face, cow'd mouldered and fall'n down.
The nasty scowl instates the man's demand.
How talented adz which then tooled the head,
Yet soft! What quiv'ring fears, amazements, stings!
Th'Egyptians fashioned - smart men, born, kilt, dead.
Written on dais, last envoy doth endear:
"Rameses, pharaoh !" hails him, so then sings,
"That work's completed! Halt, meek! Kneel! Beware!"
No ally chaperones the fierce display;
Effigy's lost the ankh, and needs its spare.
The tan dust blows, akin to ocean's spray.
[an error occurred while processing this directive]

903

[A Word Chain Puzzle: Famous Men]

Below is an anagram of this very text, in which renowned men (thirteen overall) are arranged in a rather particular order, as each man's name is entirely comprised of the rear of the name preceding it and the start of the name succeeding it. Our circular chain is currently shown under some hints (the men's short descriptions, number of letters) and a small spoiler space, granting all big brains an opportunity to decipher this riddle - although any person may simply scroll down for the answer.

Enjoy!

=



1. Christian saint (6)
2. French mathematician (8)
3. US thespian ('The Odd Couple') (7)
4. US thespian and film director ('Another Woman') (5)
5. German fantasy writer ('The Neverending Story') (4)
6. US film director ('Cleopatra') (7)
7. US playwright and essayist ('Death of a Salesman') (6)
8. Jewish-Austrian psychologist (5)
9. German conductor (8)
10. English writer and essayist ('Fever Pitch') (6)
11. English poet ('Prometheus') (5)
12. US\Norwegian Antarctic explorer (5)
13. Roman emperor (4)

*
*
*
*
*
*
*
*
*
*
*
*
*

1. Robert 2. Bertrand 3. Randall 4. Allen 5. Ende 6. DeMille 7. Miller 8. Reich 9. Eichhorn 10. Hornby 11. Byron 12. Ronne 13. Nero.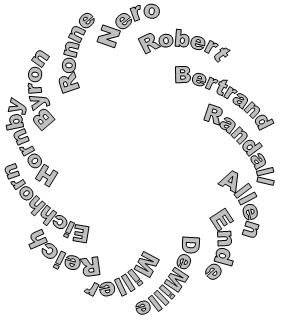 [an error occurred while processing this directive]

904

[Below is an anagram of the 98 Scrabble letters into four 5x5 squares. Of course, 98 is less then 100 so two spaces must remain unused - these unfilled spots have been put in the lower right of the arrangement. Every one of the 40 horizontal and vertical words can be found in the current "Tournament Word List" used for play in North American Scrabble tournaments, which is in turn based on the current (4th) edition of the Official Scrabble Players Dictionary. I also imposed an additional constraint, which was that the two empty spots could be filled by the two blank Scrabble tiles to (when assigned the proper letters) complete the bottom right square so that it has a full complement of 5-letter words. Making the blanks E and S turns HON into HONES, CRUD into CRUDE and HYPE into HYPES.

Below is the anagram in plain text followed by a picture of an actual board with tiles.

This is the first 4x(5x5) arrangement of the Scrabble tiles ever constructed.]

AAAAAAAAA BB CC DDDD EEEEEEEEEEEE FF GGG HH
 IIIIIIIII J K LLLL MM NNNNNN OOOOOOOO PP Q
 RRRRRR SSSS TTTTTT UUUU VV WW X YY Z
 
 =
  
 TOQUE JOWAR
 WRUNG AGONE
 AGAPE BIFID
 TIKIS OVULE
 SCENT TELES
 
 MALAR BATCH
 OZONE IVORY
 TINED MIXUP
 IDEAL ASIDE
 FERRY HON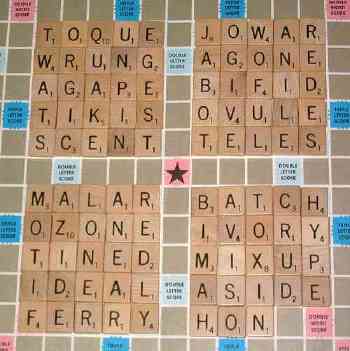 [an error occurred while processing this directive]

905

[Keats' sonnet is anagrammed into a close, modernized paraphrase - which also contains an acrostic of a fitting word.]

O Solitude! if I must with thee dwell,
Let it not be among the jumbled heap
Of murky buildings; climb with me the steep,-
Nature's observatory - whence the dell,
Its flowery slopes, its river's crystal swell,
May seem a span; let me thy vigils keep
'Mongst boughs pavillion'd, where the deer's swift leap
Startles the wild bee from the fox-glove bell.
But though I'll gladly trace these scenes with thee,
Yet the sweet converse of an innocent mind,
Whose words are images of thoughts refin'd,
Is my soul's pleasure; and it sure must be
Almost the highest bliss of human-kind,
When to thy haunts two kindred spirits flee.

Cursed loneliness! She dogs me 'tween the walls
Of the glum cubicle, so dimly lit;
My luck seems fixed, but while I'm in her thrall,
Perhaps some splendid spot would better fit -
A tufted valley with this bubbly stream,
Near gorgeous willow trees that gently sway;
I could hear hooves of mighty elks, that team
On velvet hills to fight the pests away...
No, loneliness in settings so serene
Shan't hurt me - but I'd be bereft of glee;
How prettier those kingdoms would have been
If just one person shared the bliss with me!
Prime wealths, envisaged with much time to spend,
Seem worthless - if they lack a trusty friend.